Epic delays Aloy and Lara Croft Fortnite mode to next week
Epic Games unveiled the Fortnite crossover with both Lara Croft and Horizon Zero Dawn's Aloy just a couple days ago. The new limited-time mode, also known as Team Up! Aloy & Lara Limited Time Mode, would have allowed Duos players to take on either role in the battle to the death. The battle royale will lock loot to either the craftable bow or the dual pistols. However, the studio discovered some issues at launch. As a result, Epic has delayed the Fortnite Aloy and Lara Croft team-up to next week.
In some Twitter updates, the development team first shared that the limited-time mode was not found on certain platforms. After looking into a fix, it was determined that a larger solution needed to be implemented. As such, the mode has been temporarily disabled until Epic can make sure it works on all platforms.
The new date of commencement will be on April 19. Epic will share more information in the coming days. This is a bummer for players who were looking forward to getting the victory in a Primal battle royale.
However, since Epic has handled the situation in a rapid fashion, this should cause less of a fuss for those who have not jumped in yet.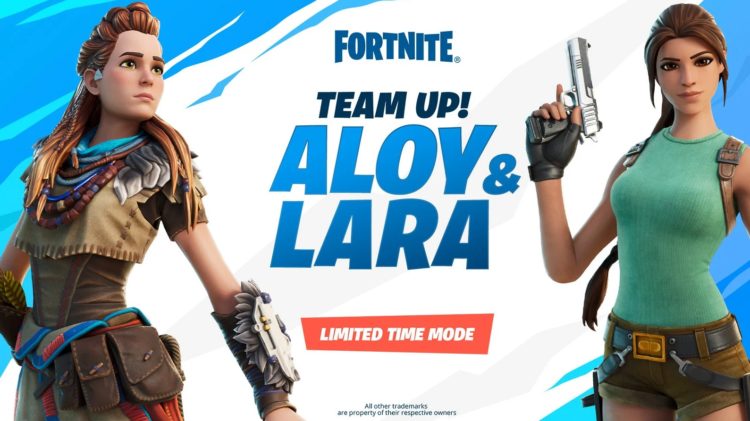 Rep your heroine
Despite the delay for Aloy and Lara Croft to fight it out in Fortnite, there is still some stuff you can get now. The Aloy Gaming Legends bundle is still available for purchase in the item shop. Purchasing it will grant you the Black Canister Back Bling, Spear Pickaxe, Glinthawk Glider, Shield-Weaver Wrap, the Heart-rizon Emote, and Aloy the Skywatcher Loading Screen.
While you wait for the limited-time mode to drop, be sure to visit our guides and features hub to get the lowdown on Fortnite Chapter 2 Season 6 Primal. The hunt is still on.
The Team Up! Aloy & Lara LTM has been temporarily disabled until the mode is up on all platforms. This mode will now begin its run starting the week of April 19. Stay tuned for an update on when players can jump in. pic.twitter.com/3aFUrjTU9T

— Fortnite Status (@FortniteStatus) April 16, 2021